Is Now a Good Time to Buy or Sell Real Estate?
Traditionally, spring is one of the busiest times of the year for real estate. However, the coronavirus outbreak—and subsequent stay-at-home orders—led many buyers and sellers to put their moving plans on hold. In April, new listings fell nearly 45%, and sales volume fell 15% compared to last year.1
Fortunately, as restrictions have eased, we've seen an uptick in market activity. And economists at Realtor.com expect a rebound in July, August, and September, as fears about the pandemic subside, and buyers return to the market with pent-up demand from a lost spring season.2
But given safety concerns and the current economic climate, is it prudent to jump back into the real estate market?
Before you decide, it's important to consider where the housing market is headed, how it could impact your timeline and ability to buy a home, and your own individual needs and circumstances.
WHAT'S AHEAD FOR THE HOUSING MARKET?
The economic aftermath of the coronavirus outbreak has been severe. We've seen record  unemployment numbers, and economists believe the country is headed toward a recession. But people still need a place to live. So what effect will these factors have on the housing market?
Home Values Projected to Remain Stable
Many Americans recall our last recession and assume we will see another drop in home values. But the 2008 real estate market crash was the cause—not the result—of that downturn. In fact, ATTOM Data Solutions analyzed real estate prices during the last five recessions and found that home prices actually went up in most cases. Only twice (in 1990 and 2008) did prices fall, and in 1990 it was by less than one percent.3 
Many economists expect home values to remain relatively steady this time around. And so far, that's been the case. As of mid-May, the median listing price in the U.S. was up 1.4% from the same period last year.4
Demand for Homes Will Exceed Available Supply
There's been a shortage of affordable homes on the market for years, and the pandemic has further hindered supply. In addition to sellers pulling back, new home starts fell 22% in March.5 In fact, Fannie Mae doesn't foresee a return to pre-pandemic construction levels before the end of 2021.6
This supply shortage is expected to prop up home prices, despite recessionary pressures. Fannie Mae and the National Association of Realtors predict housing prices will rise slightly this year7, while Zillow expects them to fall between 2-3%.8 Still, that would be a far cry from the double-digit declines that occurred during the last recession.9
Government Intervention Will Help Stabilize the Market
Policymakers have been quick to pass legislation aimed at preventing a surge in foreclosures like we saw in 2008. The Coronavirus Aid, Relief, and Economic Security (CARES) Act passed by Congress gives government-backed mortgage holders who were impacted by the pandemic up to a year of reduced or delayed payments.10
The Federal Reserve has also taken measures to help stabilize the housing market, lower borrowing costs, and inject liquidity into the mortgage industry. These steps have led to record-low mortgage rates that should help drive buyer demand and make homeownership more affordable for millions of Americans.11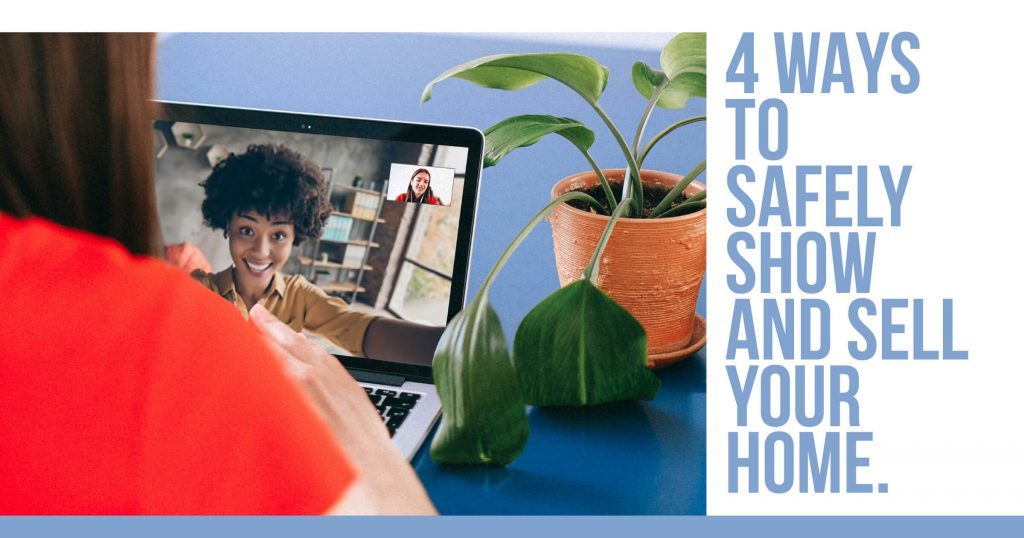 HOW HAS THE REAL ESTATE PROCESS CHANGED?
As the pandemic hit, real estate and mortgage professionals across the country revised their processes to adapt to shifting safety standards and economic realities. While these new ways of conducting business may seem strange at first, keep in mind, military clients, international buyers, and others have utilized many of these methods to buy and sell homes for years.
New Safety Procedures
The safety of our clients and our team members is our top priority. That's why we've developed a process for buyers and sellers that utilizes technology to minimize personal contact. 
For our listings, we're holding online open houses, offering virtual viewings, and conducting walk-through video tours. We're also using video chat to qualify interested buyers before we book in-person showings. This enables us to promote your property to a broad audience while limiting physical foot traffic to only serious buyers.
Likewise, our buyer clients can view properties online and take virtual video tours to minimize the number of homes they step inside. Ready to visit a property in person? We can decrease surface contact by asking the seller to turn on all the lights and open doors and cabinets before your scheduled showing.
The majority of our "paperwork" is also digital. In fact, many of the legal and financial documents involved in buying and selling a home went online years ago. You can safely view and eSign contracts from your smartphone or computer.
Longer Timelines and Higher Mortgage Standards
The real estate process is taking a little longer these days. Both buyers and sellers are more cautious when it comes to viewing and showing homes. And with fewer house hunters and less available inventory, it can take more time to match a buyer with the right property.
In a recent survey, 67% of Realtors also reported delays in the closing process. The top reasons were financing and buyer job loss, but appraisals and home inspections are also taking more time due to shifting safety protocol.12
Securing a mortgage may take longer, too. With forbearance requests rising, lenders are getting increasingly conservative when it comes to issuing new loans. Many are raising their standards—requiring higher credit scores and larger down payments. Prepare for greater scrutiny, and build in some extra time to shop around.13
IS IT THE RIGHT TIME FOR ME TO MAKE A MOVE?
The reality is, there's no "one size fits all" answer as to whether it's a good time to buy or sell a home because everyone's circumstances are unique. But now that you know the state of the market and what you can expect as you shop for real estate, consider the following questions:
Why do you want or need to move?
It's important to consider why you want to move and if your needs may shift over the next year. For example, if you need a larger home for your growing family, your space constraints aren't likely to go away. In fact, they could be amplified as you spend more time at home. 
However, if you're planning a move to be closer to your office, consider whether your commute could change. Some companies are rethinking their office dynamics and may encourage their employees to work remotely on a permanent basis.
How urgently do you need to complete your move?
If you have a new baby on the way or want to be settled before schools open in the fall, we recommend that you begin aggressively searching as soon as possible. With fewer homes on the market and a lengthier closing process, it's taking longer than usual for clients to find and purchase a home. 
However, if your timeline is flexible, you may be well-positioned to score a deal. We're seeing more highly-incentivized sellers who are willing to negotiate on terms and price. Talk to us about setting up a search so we can keep an eye out for any bargains that pop up. And get pre-qualified for a mortgage now so you'll be ready to act quickly.
If you're eager to sell this year, now is the time to begin prepping your home for the market. A second wave of infections is predicted for the winter, which could mean another lockdown.14 If you wait, you might miss your window of opportunity.
How long do you plan to stay in your new home?
The U.S. real estate market has enjoyed steady appreciation since 2012, which made it fairly easy for owners and investors to buy and sell properties for a profit in a short period of time. However, with home values expected to remain relatively flat over the next year, your best bet is to buy a home you can envision yourself keeping for several years. Fortunately, at today's rock-bottom mortgage rates, you can lock in a low interest rate and start building equity right away.
Can you meet today's higher standards for securing a mortgage?
Mortgage lenders are tightening their standards in response to the growing number of mortgage forbearance requests. Many have raised their minimum credit score and downpayment requirements for applicants. Even if you've been pre-qualified in the past, you should contact your lender to find out if you meet their new, more stringent standards.
Is your income stable?
If there's a good chance you could lose your job, you may be better off waiting to buy a home. The exception would be if you're planning to downsize. Moving to a less expensive home could allow you to tap into your home equity or cut down on your monthly expenses.
WHEN YOU'RE READY TO MOVE—WE'RE READY TO HELP
While uncertain market conditions may give pause to some buyers and sellers, they can actually present an opportunity for those who are willing, able, and motivated to make a move. 
Your average spring season would be flooded with real estate activity. But right now, only motivated players are out in the market. That means that if you're looking to buy, you're in a better position to negotiate a great price. And today's record-low mortgage rates could give a big boost to your purchasing power. In fact, if you've been priced out of the market before, this may be the perfect time to look. 
If you're hoping to sell this year, you'll have fewer listings to compete against in your neighborhood and price range. But you'll want to act quickly. Economists expect a surge of eager buyers to enter the market in July—so you should start prepping your home now. And keep in mind, a second wave of coronavirus cases could be coming in this winter. Ask yourself how you will feel if you have to face another lockdown in your current home.
Let's schedule a free virtual consultation to discuss your individual needs and circumstances. We can help you assess your options and create a plan that makes you feel both comfortable and confident during these unprecedented times.
The above references an opinion and is for informational purposes only. It is not intended to be financial advice. Consult a financial professional for advice regarding your individual needs.
Sources: